Old Navy Plaid Shirt
, Cardigan-American Eagle (similar
Boohoo Boyfriend Cardigan
),
Old Navy Rockstar Jeans
, Bag-Forever Tiff Couture (similar
Forever 21 Quilted Crossbody
), Boots-Nordstrom (similar
Steve Madden Intyce Boots
)
These leather riding boots are my absolute favorite. However, they were looking pretty beat up after a few years. The leather was cracking and the rich cognac color was fading. I thought I might have to give in a get a new, replacement pair. Instead, I took them to my local shoe cobbler to see if they could be repaired. I can't believe it, but they look almost like new! They conditioned the leather, restoring the color and re-soled them. Not bad for $28!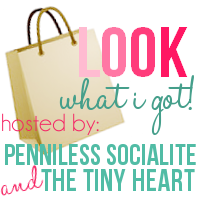 1. follow your hosts
2. grab a button
Or link back to one of your hosts, and help us promote Look What I Got!

3. link up!
Link up your post on what you got (for cheap)!
(Please don't link up your entire blog or any posts that are not "Look What I Got"! )

We love having you link up and we will be reading all your posts! So, if you don't follow the rules and link back you'll be put in time out (i.e. we'll delete your link).
4. mix and mingle
Visit some other blogs and let them know you found them through the link up!