Old Navy Classic Plaid Shirt
, Vest-Old Navy Girls (similar
Tea n Rose Navy Puffy Vest
),
Old Navy Rockstar Jeans
, Tote-c/o
Massi.com
, Boots-Nordstorm (similar
Nine West Riding Boots
)
My closet is already filled with plaid shirts, but like dessert, there's always room for some more! I couldn't resist this one from Old Navy in classic red, white, and blue. I got it on sale for just $14.25! It's currently on sale for $16, which is still a steal.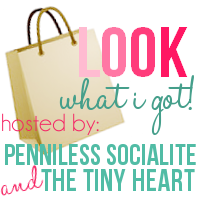 1. follow your hosts
2. grab a button
Or link back to one of your hosts, and help us promote Look What I Got!

3. link up!
Link up your post on what you got (for cheap)!
(Please don't link up your entire blog or any posts that are not "Look What I Got"! )

We love having you link up and we will be reading all your posts! So, if you don't follow the rules and link back you'll be put in time out (i.e. we'll delete your link).
4. mix and mingle
Visit some other blogs and let them know you found them through the link up!