Dress-c/o 10dollarmall.com (similar
Old Navy Eyelet Dress
), Earrings-Francesca's (similar
Kendra Scott Danielle Earrings
), Bag-H&M (similar
Forever 21 White Satchel
), Flats-Kensie Girl (similar
Mango Cap Toe Flats
)
At the beginning of summer, I would've looked like Casper the ghost in this dress. But I feel like I am now tan enough to wear it without scaring anyone. At a mere 10 bucks, you can't beat that for the perfect little white dress.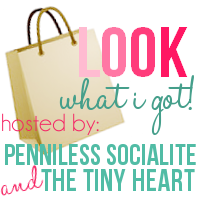 1. follow your hosts
2. grab a button
Or link back to one of your hosts, and help us promote Look What I Got!

3. link up!
Link up your post on what you got (for cheap)!
(Please don't link up your entire blog or any posts that are not "Look What I Got"! )

We love having you link up and we will be reading all your posts! So, if you don't follow the rules and link back you'll be put in time out (i.e. we'll delete your link).