Chambray Shirt-Old Navy (similar American Eagle Sleeveless Chambray Shirt), Dress Worn as Skirt-Forever 21 (similar Yoox Floral Skirt), Bag-H&M (similar Forever 21 White Satchel), Flats-Kensie Girl (similar Nurture Woven Flats)
At this point in the summer, I am trying to get creative with my closet. I feel like I've worn all my clothes over and over again. So I changed things up a bit by wearing this floral dress as a skirt instead. I paired it with a chambray shirt, which truly goes with everything.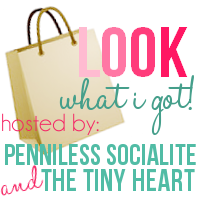 1. follow your hosts
2. grab a button
Or link back to one of your hosts, and help us promote Look What I Got!

3. link up!
Link up your post on what you got (for cheap)!
(Please don't link up your entire blog or any posts that are not "Look What I Got"! )

We love having you link up and we will be reading all your posts! So, if you don't follow the rules and link back you'll be put in time out (i.e. we'll delete your link).