Mossimo Chiffon Tank Top
,
H&M White Jeans
, Sandals-Target (similar
Boohoo Jewel Flat Sandal
), Bag-H&M (similar
Forever 21 White Satchel
)
Lately it seemed like I was wearing the same things over and over to work. I needed something new to wear, so I purchased this black chiffon tank top from Target. It was originally $19.99, on sale for $13.99. I paired it with white jeans, since I'm allowed to wear jeans to work. Although we have a casual dress code, I still like to look pulled together since I always want to be viewed as professional. If a sleeveless top won't fly in your office, add a blazer or jacket over it. You can also swap the jeans for dress pants or a skirt.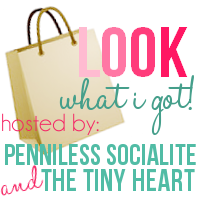 1. follow your hosts
2. grab a button
Or link back to one of your hosts, and help us promote Look What I Got!

3. link up!
Link up your post on what you got (for cheap)!
(Please don't link up your entire blog or any posts that are not "Look What I Got"! )

We love having you link up and we will be reading all your posts! So, if you don't follow the rules and link back you'll be put in time out (i.e. we'll delete your link).