Top-Coco & Main via Jane.com (similar
Steven Allen Tank
for $20), Earrings-Francesca's (similar
Loft Drop Earrings
), Necklace-c/o Majestical.com (similar
Ana Accessories Mint Necklace
),
Old Navy Rockstar Jeans
,
Cherokee Girls Huarache Sandals
The other day I was eating a burrito at Chipotle and realized there is now a Francesca's next door. I was SO excited since I've shopped the store online but not in person. Of course I went in there and wanted to buy everything in there. But I restrained myself and bought these earrings which happened to match my mint statement necklace perfectly. They were only $14!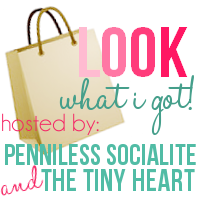 1. follow your hosts
2. grab a button
Or link back to one of your hosts, and help us promote Look What I Got!

3. link up!
Link up your post on what you got (for cheap)!
(Please don't link up your entire blog or any posts that are not "Look What I Got"! )

We love having you link up and we will be reading all your posts! So, if you don't follow the rules and link back you'll be put in time out (i.e. we'll delete your link).