Romper-Lilly for Target (similar
Lilly Pulitzer Deanna Romper
), Clutch-Target (similar
Lodis Clutch
)
This romper is the second Lilly for Target item I scored. Since my Target was nearly cleaned out by the time I got there, I figured I'd see if there was anything left online. The womens' stuff was gone in my size, but thank goodness for the girls' items! I ordered this Nosey Posey romper in two sizes since I wasn't sure of the fit. Luckily this one was a keeper!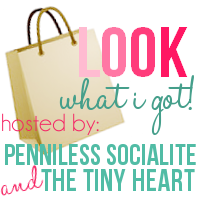 1. follow your hosts
2. grab a button
Or link back to one of your hosts, and help us promote Look What I Got!

3. link up!
Link up your post on what you got (for cheap)!
(Please don't link up your entire blog or any posts that are not "Look What I Got"! )

We love having you link up and we will be reading all your posts! So, if you don't follow the rules and link back you'll be put in time out (i.e. we'll delete your link).