This lavender shade has become one of my favorite colors to wear. It's funny because I never had anything in my closet in the purple family and now I can't get enough! The earrings I'm wearing were a whopping $2.99 on Groopdealz! The top is also a bargain at $13.99. I had originally ordered it in royal blue and loved it so much that I decided to get a second one in lavender. It's super comfy and like that it can be dressed up or down.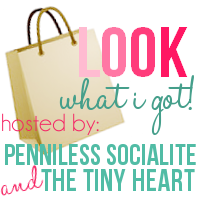 1. follow your hosts
2. grab a button
Or link back to one of your hosts, and help us promote Look What I Got!

3. link up!
Link up your post on what you got (for cheap)!
(Please don't link up your entire blog or any posts that are not "Look What I Got"! )

We love having you link up and we will be reading all your posts! So, if you don't follow the rules and link back you'll be put in time out (i.e. we'll delete your link).