Maxi Dress-Lilly Pulitzer For Target (similar
Shoptiques Print Maxi
for $23), Clutch-Target (similar
Lodis Clutch
), Sandals-Zara Girls (similar
Forever 21 Embellished Sandals
for $17.90)
It has finally been warm enough for me to wear this Lilly Pulitzer for Target dress. I was at my local Target the day the collection was released, but I got there later than planned. Everything from the womens' section was already gone, so I headed to the girls' section. Someone put this dress back on the rack and I grabbed it! I wanted a shift dress, but this was the next best thing. It can be a challenge for me to find maxi dresses considering I'm so petite (alterations are always an option but it's a problem when you have to cut off half the dress)! I was pleasantly surprised that the length was nearly perfect on me.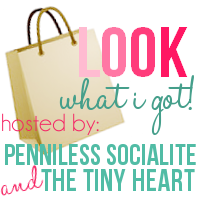 1. follow your hosts
2. grab a button
Or link back to one of your hosts, and help us promote Look What I Got!

3. link up!
Link up your post on what you got (for cheap)!
(Please don't link up your entire blog or any posts that are not "Look What I Got"! )

We love having you link up and we will be reading all your posts! So, if you don't follow the rules and link back you'll be put in time out (i.e. we'll delete your link).