Top-JCrew Factory (similar
Ella Moss Jewel Tee
), Jeans-Loft Outlet (similar
Loft Skinny Ankle Zip Jeans
), Flats-Gap Kids (similar
Pretty Ballerinas Ballet Flats
)
Last week on the blog I shared my thoughts on outlet pricing. These jeans from the Loft outlet were marked $69.99 and were 60% off, marking them down to $28. They may not be the bargain of the century, but I bought them because it can be hard to find jeans that fit me well. They were from Loft's petite section and this ankle length is perfect on me. Finding jeans that don't need alterations are always a major win!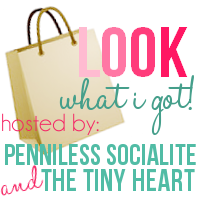 1. follow your hosts
2. grab a button
Or link back to one of your hosts, and help us promote Look What I Got!

3. link up!
Link up your post on what you got (for cheap)!
(Please don't link up your entire blog or any posts that are not "Look What I Got"! )

We love having you link up and we will be reading all your posts! So, if you don't follow the rules and link back you'll be put in time out (i.e. we'll delete your link).

4. mix and mingle
Visit some other blogs and let them know you found them through the link up!