I received the XO VoxBox from
Influenster
(if you're not already a member, sign up and you can get free products too!). Here's what I got:
Tide Pods Plus Febreze (retail $9.99/26 count) This combines Tide Pods with Febreze in the Botanical Rain scent. Have to be honest, I normally use laundry detergent that is free of dyes/perfumes since I'm very sensitive to smell.
Colgate Optic White Express White Toothpaste (retail $3.99-$4.99) This toothpaste claims to whiten teeth in 3 days and contains Hydrogen Peroxide. I don't notice a difference so far, but since it says best results are after 4 weeks I'll have to keep using it.
Colgate Optic White Toothbrush + Built in Whitening Pen (retail $14.99) The toothbrush really doesn't have anything to do with whitening, other than that you can store the pen with it. After brushing your teeth, you apply the gel. I like that it's super easy to use and you don't need to wait after you apply it. This is also something that I have to keep using to see if there's results.
Skinfix Hand Repair Cream (retail $10) After the winter we've been having, my hands could sure use this!
John Frieda Luxurious Volume 7 Day Volume In-Shower Treatment (retail $9.99) This is supposed to transform thin hair into thicker strands. My hair is very thin but frizzy so I'm not sure what this will do to my hair.
John Frieda Beach Blonde Collection (retail $9.99) For those that don't know, Beach Blonde products were discontinued years ago and they finally brought it back! They smell amazing (just like the beach) and the spray creates such beautiful waves. I'm obsessed!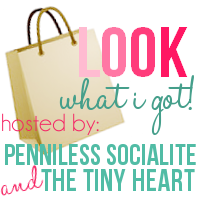 1. follow your hosts
2. grab a button
Or link back to one of your hosts, and help us promote Look What I Got!

3. link up!
Link up your post on what you got (for cheap)!
(Please don't link up your entire blog or any posts that are not "Look What I Got"! )

We love having you link up and we will be reading all your posts! So, if you don't follow the rules and link back you'll be put in time out (i.e. we'll delete your link).

4. mix and mingle
Visit some other blogs and let them know you found them through the link up!