Top-Mossimo (similar
I Heart Ronson Blouse
), Necklace-Forever 21 (similar
Forever 21 Filagree Heart Pendant
for $4.80),
Old Navy Rockstar Jeans
, Ankle Boots-Target (similar
Modcloth Ankle Boots
), Clutch-Target (similar
Apt. 9 Envelope Clutch
)
Thankfully we've had a little taste of Spring lately. Before we get another round of snow tomorrow, I wanted to put on something bright and cheerful. I decided to wear this heart print blouse since it's colorful and puts me in a good mood when I wear it.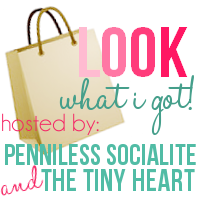 1. follow your hosts
2. grab a button
Or link back to one of your hosts, and help us promote Look What I Got!

3. link up!
Link up your post on what you got (for cheap)!
(Please don't link up your entire blog or any posts that are not "Look What I Got"! )

We love having you link up and we will be reading all your posts! So, if you don't follow the rules and link back you'll be put in time out (i.e. we'll delete your link).

4. mix and mingle
Visit some other blogs and let them know you found them through the link up!