Brigitte Bailey Demri Dress
//
Jessica Simpson Neesha Boots
//
Forever 21 Envelope Clutch
//
Kate Spade Heart of Gold Bangle
//
Betsey Johnson Bangle
This is what I wish I was wearing for V Day. My Valentine's Day Dress is sleeveless, which is probably not the most practical when it's 20 something degress outside. Oops. (When it's this cold, I'd really rather wear my snuggie but that's not gonna fly!). I'm now wishing I had gotten something more winter weather appropriate, like this long sleeved Brigitte Bailey wrap dress. I paired it with heeled ankle boots, a black and gold clutch, and some heart/love themed bangles.
What are your Valentine's Day plans and what will you be wearing?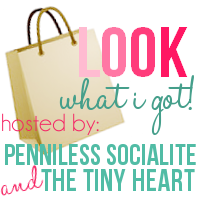 1. follow your hosts
2. grab a button
Or link back to one of your hosts, and help us promote Look What I Got!

3. link up!
Link up your post on what you got (for cheap)!
(Please don't link up your entire blog or any posts that are not "Look What I Got"! )

We love having you link up and we will be reading all your posts! So, if you don't follow the rules and link back you'll be put in time out (i.e. we'll delete your link).

4. mix and mingle
Visit some other blogs and let them know you found them through the link up!