Cable Knit Cape Sweater
-c/o Sheinside, Tee-Old Navy, Snood-Asos (similar
Mango Faux Fur Snood
), Leggings-Target (similar
Forever 21 Leggings
for $3.90), Boots-Nordstrom (similar
Steve Madden Intyce Boots
)
I really love this camel cape sweater since it has snaps in the front which means it can be worn two different ways. I wore it on the blog before with the snaps undone for an open cardigan sweater look. Today I wanted to show how it looks as a cape. I was slow to get on this trend, but after trying it, I realize that cape sweaters are super cozy and warm! Best of all, this one is on sale for just $19.99.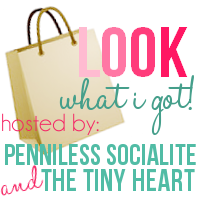 1. follow your hosts
2. grab a button
Or link back to one of your hosts, and help us promote Look What I Got!

3. link up!
Link up your post on what you got (for cheap)!
(Please don't link up your entire blog or any posts that are not "Look What I Got"! )

We love having you link up and we will be reading all your posts! So, if you don't follow the rules and link back you'll be put in time out (i.e. we'll delete your link).

4. mix and mingle
Visit some other blogs and let them know you found them through the link up!