Sweater-Forever 21 (similar
H&M Cable Knit Sweater
), Snood-Asos (similar
River Island Faux Fur Snood
), Pants-H&M Kids, Boots-Chinese Laundry (similar
Chinese Laundry South Bay Boots
), Bag-Botkier
I originally wanted to wear this outfit with a grey sweater. But when I opened up my dresser, it was nowhere to be found. I wound up tearing apart my bedroom looking for the sweater since it was driving me absolutely nuts that I couldn't find it. I still haven't found the sweater, so I had to settle for a cream cable knit sweater instead. I paired it with my faux fur snood which is a must on freezing cold days! It's the next best thing to cuddling with a dog.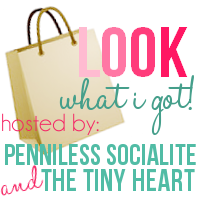 1. follow your hosts
2. grab a button
Or link back to one of your hosts, and help us promote Look What I Got!

3. link up!
Link up your post on what you got (for cheap)!
(Please don't link up your entire blog or any posts that are not "Look What I Got"! )

We love having you link up and we will be reading all your posts! So, if you don't follow the rules and link back you'll be put in time out (i.e. we'll delete your link).

4. mix and mingle
Visit some other blogs and let them know you found them through the link up!