Cardigan-American Eagle (similar
Merona Boyfriend Cardigan
), Tee-Gap (similar
a.n.a Striped Tee
), Scarf-Amazon (similar
Echo Leopard Scarf
),
Old Navy Rockstar Jeans
, Boots-Nordstorm (similar
Steve Madden Intyce Boots
),
Kelly Wynne Mingle Mingle Mini Bag
It's now Chanukkah! I lit my electric menorah (I don't trust candles around the dogs!) and I'll be cooking yummy potato latkes. In honor of the holiday, I wanted to wear something blue. I paired a navy boyfriend cardigan with a striped grey tee and leopard scarf. Happy Chanukkah to those that celebrate!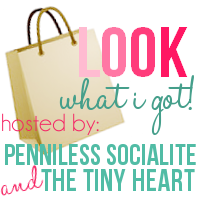 1. follow your hosts
2. grab a button
Or link back to one of your hosts, and help us promote Look What I Got!

3. link up!
Link up your post on what you got (for cheap)!
(Please don't link up your entire blog or any posts that are not "Look What I Got"! )

We love having you link up and we will be reading all your posts! So, if you don't follow the rules and link back you'll be put in time out (i.e. we'll delete your link).

4. mix and mingle
Visit some other blogs and let them know you found them through the link up!