Aeropostale Boys Buffalo Plaid Shirt
(similar Womens
Old Navy Buffalo Plaid Shirt
), Cardigan-JCrew via Poshmark, Necklace-Forever 21, Pants-H&M Kids, Boots-Naturalizer (similar
Enzo Angiolini Boots
), Bag-Coach
I went on a hunt to find a red buffalo plaid shirt, as I've been seeing them everywhere this year. (Who knew lumberjacks could be so chic? Paul Bunyan was onto something). So many were sold out in my size and I couldn't find one that wasn't ridiculously expensive. So, I decided to look in the boys section. I often buy from the girls section as a petite, but this was my first time browsing boys clothing. I stumbled upon this one from Aeropostale's boys line. I wasn't exactly sure what size to order, but thankfully the size 12 fit (it's a bit wider than expected but the smaller size wouldn't have fit my arms). It was originally $29.50 and I got it on sale for just $17!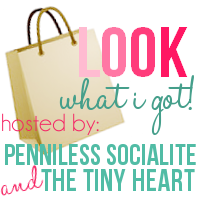 1. follow your hosts
2. grab a button
Or link back to one of your hosts, and help us promote Look What I Got!

3. link up!
Link up your post on what you got (for cheap)!
(Please don't link up your entire blog or any posts that are not "Look What I Got"! )

We love having you link up and we will be reading all your posts! So, if you don't follow the rules and link back you'll be put in time out (i.e. we'll delete your link).

4. mix and mingle
Visit some other blogs and let them know you found them through the link up!