JCrew Factory Jeweled Necklace Tee
, Shirt-Target (similar
JCrew Factory Chambray Shirt
),
Old Navy Jeans
, Boots-Nordstrom (similar
Steve Madden Intyce Boots
), Tote-c/o
Massi
Ever since I saw Mindy Kailing wear this jeweled tee on The Mindy Project last season, I wanted it. I was drooling over it for quite some time and then I finally bit the bullet. JCrew Factory was having a 50% off sale for their birthday and I figured I couldn't get a better deal than that. Originally $62.50, I got it for $31!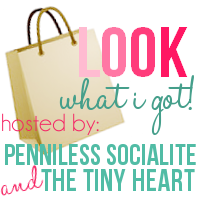 1. follow your hosts
2. grab a button
Or link back to one of your hosts, and help us promote Look What I Got!

3. link up!
Link up your post on what you got (for cheap)!
(Please don't link up your entire blog or any posts that are not "Look What I Got"! )

We love having you link up and we will be reading all your posts! So, if you don't follow the rules and link back you'll be put in time out (i.e. we'll delete your link).

4. mix and mingle
Visit some other blogs and let them know you found them through the link up!