Cardigan-JCrew via Poshmark, Tee-Forever 21 (similar
Joe Fresh Striped Tee
),
Old Navy Jeans
, Bag-H&M, Flats-Target
I was so excited that I found this JCrew Sequin Bow Cardigan, in my size, on Poshmark! I saw a bunch of bloggers wear it last fall/winter and was envious. It's no longer available at JCrew so I couldn't believe I found it on Poshmark on the cheap. It was listed for $25, but I bargained with the seller and got down to $20. Thanks to a credit I had, I paid just under $16, including shipping!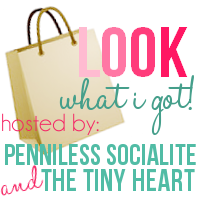 div style="text-align: center;">
1. follow your hosts
2. grab a button
Or link back to one of your hosts, and help us promote Look What I Got!

3. link up!
Link up your post on what you got (for cheap)!
(Please don't link up your entire blog or any posts that are not "Look What I Got"! )

We love having you link up and we will be reading all your posts! So, if you don't follow the rules and link back you'll be put in time out (i.e. we'll delete your link).

4. mix and mingle
Visit some other blogs and let them know you found them through the link up!