Blouse-Old Navy (similar
Express Sleevless Portofino Shirt
), Necklace-Luxe Craving (similar
Blu Bijoux Necklace
), Skirt-Forever 21 (similar
Forever 21 Pleated Skirt
), Shoes-Gap Kids (similar
Sam & Libby Bow Flats
), Bag-H&M (similar
Forever 21 Satchel
)
Last week I had a bit of a freak out about what to wear to my new job. So naturally I decided to use that as an excuse to go shopping. I picked up this Forever 21 navy pleated skirt for just $15.80. After buying it, I've realized I have a TON of navy clothes in my closet. But it's okay, since they're all a little different. 50 Shades of Navy. And I see myself getting use of it in the fall as well, with a sweater and a pair of tights. Totally justified!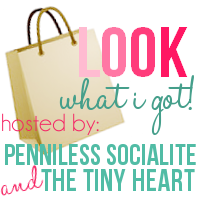 1. follow your hosts
2. grab a button
Or link back to one of your hosts, and help us promote Look What I Got!

3. link up!
Link up your post on what you got (for cheap)!
(Please don't link up your entire blog or any posts that are not "Look What I Got"! )

We love having you link up and we will be reading all your posts! So, if you don't follow the rules and link back you'll be put in time out (i.e. we'll delete your link).

4. mix and mingle
Visit some other blogs and let them know you found them through the link up!