JCrew Factory Jeweled Sweatshirt
, Pants-H&M Kids, Flats-Gap Kids Outlet (similar
Sam & Libby Bow Flats
), Bag-H&M (similar
Forever 21 White Satchel
)
This JCrew Factory jeweled top was one of the things I bought for work. Turns out that my office is actually very casual when it comes to dress code. Many people wear jeans, which I was pleasantly surprised to see. I guess I didn't need to run out and buy new clothes after all...but I think it's always good to dress professional especially when I'm the new employee. I haven't worn jeans just yet since I want to make a good impression!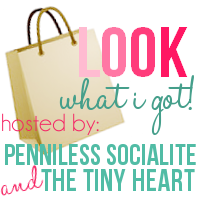 1. follow your hosts
2. grab a button
Or link back to one of your hosts, and help us promote Look What I Got!

3. link up!
Link up your post on what you got (for cheap)!
(Please don't link up your entire blog or any posts that are not "Look What I Got"! )

We love having you link up and we will be reading all your posts! So, if you don't follow the rules and link back you'll be put in time out (i.e. we'll delete your link).

4. mix and mingle
Visit some other blogs and let them know you found them through the link up!