Blouse-Old Navy (similar H&M Sleeveless Blouse for $12), Belt-H&M (similar H&M Leather Belt), Shorts-Rampage (similar Loft Shorts), Sandals-American Eagle (similar Journee Sandals), Bag-Forever Tiff Couture (similar H
ouse of Fraser Bag)
Not sure if you guys have noticed, but I got a DSLR! (all my photos this week have been taken with my new camera). I bought a Canon Rebel T3. I was tired of taking photos with my digital camera and hating the way my photos looked. But I didn't have the extra money just laying around.
So what did I do? I saved up gift cards, most of which I won from giveaways. I also signed up for camel camel camel, a site that tracks Amazon items and will alert you when the price drops. I got an alert that the camera had dropped down to just $299! (the lowest it's been since 2011!). I had managed to rack up $280 in gift cards, so the camera wound up costing me a grand total of $40 including tax.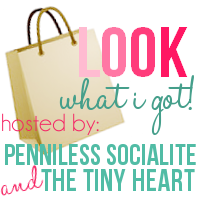 1. follow your hosts
2. grab a button
Or link back to one of your hosts, and help us promote Look What I Got!

3. link up!
Link up your post on what you got (for cheap)!
(Please don't link up your entire blog or any posts that are not "Look What I Got"! )

We love having you link up and we will be reading all your posts! So, if you don't follow the rules and link back you'll be put in time out (i.e. we'll delete your link).

4. mix and mingle
Visit some other blogs and let them know you found them through the link up!