Tank-A&F (similar
Forever 21 Floral Tank
), Necklace-Brighthouse Baubles (similar
Mint Beaded Necklace
),
Old Navy Rockstar Jeans
, Flats-Gap Outlet (similar
Sam & Libby Bow Flats
), Clutch-
HanMadeThings
on Etsy
The other day I was having one of those days when you hate everything in your closet. I tried on outfit after outfit and just wasn't happy with the way anything looked. I was about to have a meltdown and then I thought, hey I haven't worn my bow clutch in a while. I paired it with my bow flats and boom, a new outfit was born. I'm going to take this as a sign that I need to go shopping asap to remedy my lack of inspiration.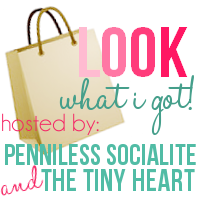 1. follow your hosts
2. grab a button
Or link back to one of your hosts, and help us promote Look What I Got!

3. link up!
Link up your post on what you got (for cheap)!
(Please don't link up your entire blog or any posts that are not "Look What I Got"! )

We love having you link up and we will be reading all your posts! So, if you don't follow the rules and link back you'll be put in time out (i.e. we'll delete your link).

4. mix and mingle
Visit some other blogs and let them know you found them through the link up!