I jumped to buy this Wifey tee when I saw it go on sale from $29.99 to $19.99 for three hours. I had my eye on it for a while, but I told myself I didn't need it and it seemed a little expensive for just a tee shirt. But once it was reduced, I felt that justified buying it. FYI, it's still on sale for $19.99, so I guess I could've waited longer than the promised 3 hour only sale. (Yep, totally fell for that sales tactic!).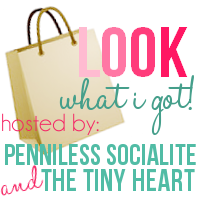 1. follow your hosts
2. grab a button
Or link back to one of your hosts, and help us promote Look What I Got!

3. link up!
Link up your post on what you got (for cheap)!
(Please don't link up your entire blog or any posts that are not "Look What I Got"! )

We love having you link up and we will be reading all your posts! So, if you don't follow the rules and link back you'll be put in time out (i.e. we'll delete your link).

4. mix and mingle
Visit some other blogs and let them know you found them through the link up!