Romper-Forever 21 via Instagram (similar Forever 21 Floral Romper), Necklace-Gift (similar BaubleBar Nameplate Necklace), Sandals-Target (similar Lands End Sandals), Bag-H&M
(similar
Forever 21 White Satchel
)
I found this romper through selling my own clothes on Instagram. Another shop contacted me about trading one of my items for hers. I really had no intentions of doing trades, but once I saw this cute floral romper, I wanted it! It is definitely risky purchasing clothes through Instagram, since you can't try it on first and many shops have final sale policies. But I figured if it didn't fit, I could always sell it. Thankfully it does fit and I love that it's kind of a romper/skort hybrid with the skirt layer. I really hope people can tell it's a romper and not a super short dress!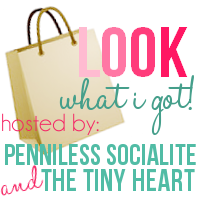 1. follow your hosts
2. grab a button
Or link back to one of your hosts, and help us promote Look What I Got!

3. link up!
Link up your post on what you got (for cheap)!
(Please don't link up your entire blog or any posts that are not "Look What I Got"! )

We love having you link up and we will be reading all your posts! So, if you don't follow the rules and link back you'll be put in time out (i.e. we'll delete your link).

4. mix and mingle
Visit some other blogs and let them know you found them through the link up!