I wanted to get a new white skirt for the summer. I have a really cute white pencil skirt, but the problem is that it's see through. Even with a slip underneath and wearing certain underwear, you can still see everything thanks to the fabric. Not okay. I'm happy that I've now found a new white skirt that is fully lined. I decided to pair it with stripes, sparkles, and a pop of red for a classic, all American look.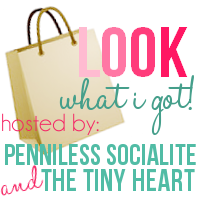 1. follow your hosts
2. grab a button
Or link back to one of your hosts, and help us promote Look What I Got!

3. link up!
Link up your post on what you got (for cheap)!
(Please don't link up your entire blog or any posts that are not "Look What I Got"! )

We love having you link up and we will be reading all your posts! So, if you don't follow the rules and link back you'll be put in time out (i.e. we'll delete your link).

4. mix and mingle
Visit some other blogs and let them know you found them through the link up!