Denim Jacket-Old Navy (similar
Old Navy Denim Jacket
), Tee-Express (similar
Gap Striped Tee
), Large Arrow Necklace-
Miriam Merenfeld
, Small Arrow Necklace-
Chloe & Isabel
, Jeans-Old Navy (similar
Liverpool Jeans
), Bag-H&M (similar
Forever 21 Satchel
),
Converse Kids Chuck Taylor Sneakers
I was wearing this outfit when I went grocery shopping with my hubby on Sunday. I was reaching into the ice cream case when a guy said "excuse me." I thought I was in the way of some Rocky Road or something but then he said, "has any one ever told you that you look like Avril Lavigne?" Pretty sure I just stood there since the hubs said "uh no, never heard that before." Then the guy says, "I'm a really big fan of hers. She's awesome!". Um, okay random grocery store guy. I don't think I look anything like Avril, and I'm not sure it's compliment!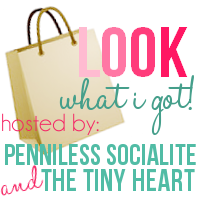 1. follow your hosts
2. grab a button
Or link back to one of your hosts, and help us promote Look What I Got!

3. link up!
Link up your post on what you got (for cheap)!
(Please don't link up your entire blog or any posts that are not "Look What I Got"! )

We love having you link up and we will be reading all your posts! So, if you don't follow the rules and link back you'll be put in time out (i.e. we'll delete your link).

4. mix and mingle
Visit some other blogs and let them know you found them through the link up!