Jacket-Old Navy (similar
Old Navy Cargo Jacket
), Tee-Forever 21 (similar
JCrew Factory Striped Tee
), Necklace-Eliza Jay Charm (similar
Moon and Lola Monogram Necklace
),
Old Navy Jeans
, Bag-H&M (similar
Forever 21 Satchel
),
Converse Kids Chuck Taylor Sneakers
I was in Old Navy over the weekend and I could not believe my eyes when I spotted this cargo jacket on the clearance rack for $9.97! (originally $39). I don't see the same one online, but run to your local Old Navy to see if you can snatch one up. It's still chilly here so I know I'll get more use out of it before it finally warms up. (Yesterday I actually had to wear my winter coat). Let's just hope it's beach weather by Memorial Day weekend!
PS Take 30% off any ad space with code MAY
PPS Enter the Betsey Johnson Necklace Giveaway
and the Great Finish Sweepstakes!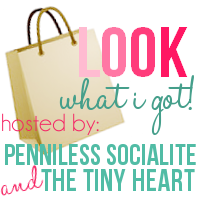 1. follow your hosts
2. grab a button
Or link back to one of your hosts, and help us promote Look What I Got!

3. link up!
Link up your post on what you got (for cheap)!
(Please don't link up your entire blog or any posts that are not "Look What I Got"! )

We love having you link up and we will be reading all your posts! So, if you don't follow the rules and link back you'll be put in time out (i.e. we'll delete your link).

4. mix and mingle
Visit some other blogs and let them know you found them through the link up!