I bought this heart print blouse last season. One day I wanted to wear it and realized I couldn't find it anywhere. I pulled apart my closet and dresser, even checked the laundry. It was no where to be found. I was pretty much convinced I had lost it forever. Then last week I was gathering laundry together and to my surprise, this blouse was in the hamper! I swear I had checked the hamper multiple times before for the blouse and I hadn't seen it in there. I guess it was just hiding from me instead of actually being lost.
So, even though this blouse is old, it now feels "new" again thanks to being found!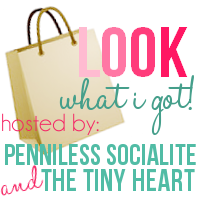 1. follow your hosts
2. grab a button
Or link back to one of your hosts, and help us promote Look What I Got!

3. link up!
Link up your post on what you got (for cheap)!
(Please don't link up your entire blog or any posts that are not "Look What I Got"! )

We love having you link up and we will be reading all your posts! So, if you don't follow the rules and link back you'll be put in time out (i.e. we'll delete your link).

4. mix and mingle
Visit some other blogs and let them know you found them through the link up!