Charlotte Russe Crop Top,
Charlotte Russe Tribal Skater Skirt
, Clutch-Target (similar
Marc Fisher Clutch
), Sandals-American Eagle (similar
Fergalicious Serene Flat Sandal
)
Well you guys, I finally took the plunge and am wearing a crop top. I never wore one when they came around in the 90s because there was no way my mom would let me out of the house in one! (Even though I'm an adult now, this post is probably giving her anxiety, ha). I got both the top and the skirt at Charlotte Russe. It's a store I don't normally shop at, but they do have tons of crop tops at really affordable prices. They were having a $10 sale on skirts the day I was in the store so the top and skirt cost me just $18 total.
If you're thinking about this trend, here's my tips for wearing a crop top:
Pair it with a high waisted skirt/shorts/pants. This will show just a little hint of skin.

Don't show your belly button. I think that crosses the line into trashy territory (I'm looking at you, Rihanna!)

Try it on in the store. Crop tops come in all different lengths, so it's best to test it out in the dressing room to see where it will fall on you.

Be confident! It takes confidence to bare your midriff when you're not at the beach. If you feel too exposed, pair it with a blazer or jacket.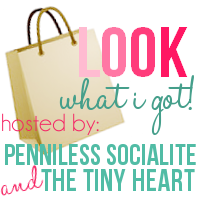 1. follow your hosts
2. grab a button
Or link back to one of your hosts, and help us promote Look What I Got!

3. link up!
Link up your post on what you got (for cheap)!
(Please don't link up your entire blog or any posts that are not "Look What I Got"! )

We love having you link up and we will be reading all your posts! So, if you don't follow the rules and link back you'll be put in time out (i.e. we'll delete your link).

4. mix and mingle
Visit some other blogs and let them know you found them through the link up!