Hoodie-Old Navy (similar Calvin Klein Hoodie),
Tee-Target (similar
Splendid Camo Tee
), Necklace-Forever 21 (similar
Charlotte Russe Rhinestone Necklace
for $6),
Old Navy Jeans
, Booties-Target (similar
Crown Vintage Tabitha Booties
)
Camo is a something that I never thought I'd wear. I saw it as something people wear to go hunting in the woods. But like many trends, the more I saw it on other bloggers, the more it grew on me. I first spotted this camo tee at Target a few weeks ago but sadly they were out of my size. Since I'm always at Target, I checked back again and thankfully they had restocked it. So I guess you can say I "hunted" down the tee, haha. It was a deal at just $12!
I was inspired by this camo tee outfit that Adri wore. Love how she styled it with the statement necklace to make the camo girly.
Would you wear the camo trend?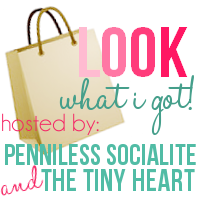 1. follow your hosts
2. grab a button
Or link back to one of your hosts, and help us promote LookWhat I Got!

3. link up!
Link up your post on what you got (for cheap)!
(Please don't link up your entire blog or any posts that are not "Look What I Got"! )

We love having you link up and we will be reading all your posts! So, if you don't follow the rules and link back you'll be put in time out (i.e. we'll delete your link).

4. mix and mingle
Visit some other blogs and let them know you found them through the link up!