Vest-c/o
Sammydress.com
, Blouse-Forever 21 (similar
Takara Bow Blouse
), Pants-H&M Kids, Pumps-c/o
Andres Machado
After having some beautiful spring weather the last few days (it was nearly 70 on Tuesday!), we're now back to winter. March in New Jersey means it can drop 40 degrees in just one night. But at least the cold weather means I can wear my new vest from Sammydress.com. Yes, I know I already have a faux fur vest but I just had to have this one. Some people collect coins or stamps, but I collect faux fur vests. If you collect them too, you can score it for just $12.97 (and free shipping)!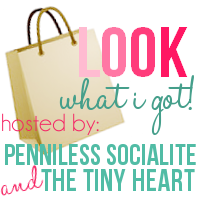 1. follow your hosts
2. grab a button
Or link back to one of your hosts, and help us promote LookWhat I Got!

3. link up!
Link up your post on what you got (for cheap)!
(Please don't link up your entire blog or any posts that are not "Look What I Got"! )

We love having you link up and we will be reading all your posts! So, if you don't follow the rules and link back you'll be put in time out (i.e. we'll delete your link).

4. mix and mingle
Visit some other blogs and let them know you found them through the link up!