Cardigan-Sugar Love Boutique (similar Mango Striped Cardigan),
Tee-Juicy Couture (similar
Victoria's Secret Graphic Tee
), Necklace-Forever 21 (similar
Charlotte Russe Rhinestone Necklace
for $6),
Old Navy Jeans
, Flats-Gap Kids (similar
Sam & Libby Bow Flats
), Bag-H&M (similar
Dorothy Perkins Satchel
)
I've been a bit slow to hop on the graphic tee bandwagon. While I think graphic tees are really cute, I was hesitant to invest in one since I could only wear them on the weekends. Well, it finally dawned on me that I already had this "minibar couture" tee in my closet! I purchased it a bunch of years ago and I'm glad I held onto it. I'm starting to think I should never get rid of anything, since trends always seem to come back into style if you wait long enough. Case in point, overalls. I wore them like crazy in the 7th grade and now I'm seeing them again in Target!
Linking up with Jacqueline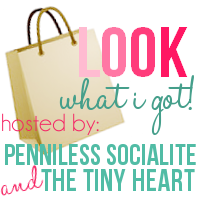 1. follow your hosts
2. grab a button
Or link back to one of your hosts, and help us promote LookWhat I Got!

3. link up!
Link up your post on what you got (for cheap)!
(Please don't link up your entire blog or any posts that are not "Look What I Got"! )

We love having you link up and we will be reading all your posts! So, if you don't follow the rules and link back you'll be put in time out (i.e. we'll delete your link).

4. mix and mingle
Visit some other blogs and let them know you found them through the link up!