Sweater-Lmae Boutique (similar Forever 21 Polka Dot Sweater for $13.99),
Shirt-Target (similar
Lucky Brand Gingham Shirt
), Necklace-Forever 21 (similar
Express Rhinestone Necklace
),
Old Navy Rockstar Jeans
, Boots-Naturalizer (similar
Rose Petals Riding Boots
)
I got this gingham shirt off the Target clearance rack for just $7. It's no longer online, but check your local store! Like a lot of other bloggers, I am getting sick of my winter wardrobe. I feel like that Bluefly commercial where the woman is standing in front of her closet naked and says she has nothing to wear. Sure, I have an entire closet of clothes but it's becoming more of a challenge to remix them in different ways. So little purchases like this shirt help breathe new life into my closet.
Are you sick of your winter wardrobe too?
***
Meet Gabby, fellow Jersey girl from Like a Little Fox!
Hi! My name is

Gabby

and my blog is called "Like a Little Fox." I'm all about dresses, bows, polka dots and everything cute, but I also try to get out of my comfort zone and play around with my personal style.
Aside from outfit posts, I often share easy hairstyles and style how-tos...and sometimes I talk about everyday life as a 20-something living in NJ with my boyfriend and sweet little pup.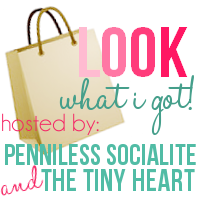 1. follow your hosts
2. grab a button
Or link back to one of your hosts, and help us promote LookWhat I Got!

3. link up!
Link up your post on what you got (for cheap)!
(Please don't link up your entire blog or any posts that are not "Look What I Got"! )

We love having you link up and we will be reading all your posts! So, if you don't follow the rules and link back you'll be put in time out (i.e. we'll delete your link).

4. mix and mingle
Visit some other blogs and let them know you found them through the link up!