Pearls N Stitches Headband, Lmae Boutique Sweater,
Target Vest (no longer available, similar
Old Navy Tweed Vest
), Scarf-c/o
FRAAS
, Pants-H&M Kids (similar
Old Navy Rockstar Jeans
),
Hunter Kids Rainboots
Jessa from Life of A Sports Wife
has an Etsy shop called Pearls N Stitches. I was lucky enough to win one of her adorable knit headbands in a giveaway.
It's a really cute way to keep your ears warm in the winter.

She even customized the size for me so it would be a perfect fit for my petite self. I loved it so much that she decided to host a giveaway for TTH readers! She has pretty much every color of the rainbow available and you can choose to have it made with or without the bow (personally I think the bow is an adorable touch!).
a Rafflecopter giveaway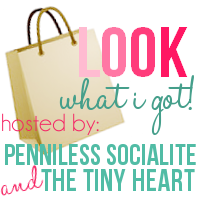 1. follow your hosts
2. grab a button
Or link back to one of your hosts, and help us promote LookWhat I Got!

3. link up!
Link up your post on what you got (for cheap)!
(Please don't link up your entire blog or any posts that are not "Look What I Got"! )

We love having you link up and we will be reading all your posts! So, if you don't follow the rules and link back you'll be put in time out (i.e. we'll delete your link).

4. mix and mingle
Visit some other blogs and let them know you found them through the link up!