Sweater-Forever 21 (similar
Old Navy Crewneck Sweater
), Shirt-H&M (similar
Gap Gingham Shirt
),
eBay Gold Tassel Necklace
,
Old Navy Rockstar Jeans
, Boots-Nordstrom (similar
Steve Madden Intyce Boots
), Bag-Philip Lim for Target
I really wanted a gold tassle necklace after seeing the trend on so many bloggers. I found this one on eBay for just $12.99. It looks exactly like the Bauble Bar Lariat Necklace , but theirs is selling for $36. If you're looking for a tassle necklace, I don't think you'll find one cheaper! (and it arrived just two days after I ordered it).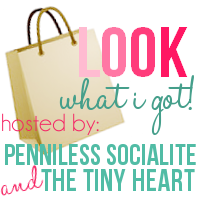 1. follow your hosts
2. grab a button
Or link back to one of your hosts, and help us promote LookWhat I Got!

3. link up!
Link up your post on what you got (for cheap)!
(Please don't link up your entire blog or any posts that are not "Look What I Got"! )

We love having you link up and we will be reading all your posts! So, if you don't follow the rules and link back you'll be put in time out (i.e. we'll delete your link).

4. mix and mingle
Visit some other blogs and let them know you found them through the link up!