I wore this outfit on New Year's Eve and I kinda felt like Rachel Zoe in it. We stayed in and had some family come over but I still wanted to feel a little glam, hence the faux fur vest. For some reason everyone said I was really dressed up. Clearly none of them are fashion bloggers.
I scored Fossil watch on major sale at the Fossil outlet. It was on major sale, from $175 reduced to $64! But thanks to a gift card, I didn't spend a penny. And it fits my tiny wrist (thanks to removing a bunch of the links!).
PS Enter the $50 PayPal Cash Giveaway!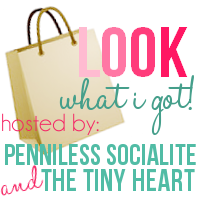 1. follow your hosts
2. grab a button
Or link back to one of your hosts, and help us promote LookWhat I Got!

3. link up!
Link up your post on what you got (for cheap)!
(Please don't link up your entire blog or any posts that are not "Look What I Got"! )

We love having you link up and we will be reading all your posts! So, if you don't follow the rules and link back you'll be put in time out (i.e. we'll delete your link).

4. mix and mingle
Visit some other blogs and let them know you found them through the link up!