It's getting awfully cold in Jersey lately! I'm always looking for ways to keep warm yet still look cute. So when I saw this ASOS Faux Fur Snood, I knew I had to have it. I stalked it till
it went on sale from $39 to $29. (It's currently on sale for $31, but still a great deal). It is sooo soft...I'm talking softer than puppy fur! I already told Oliver and Jinx not to get jealous if I pet it more than them.
I also have a giveaway for you today from Glamplaza! Enter to win a fun multicolored statement necklace!
a Rafflecopter giveaway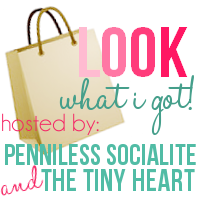 1. follow your hosts
2. grab a button
Or link back to one of your hosts, and help us promote LookWhat I Got!

3. link up!
Link up your post on what you got (for cheap)!
(Please don't link up your entire blog or any posts that arenot "Look What I Got"! )

We love having you link up and we will be reading all your posts! So, if you don't follow the rules and link back you'll be put in time out (i.e. we'll delete your link).

4. mix and mingle
Visit some other blogs and let them know you found them through the link up!