Sears Houndstooth Coat
, Scarf-c/o
FRAAS
, Over the Knee Boots-Chinese Laundry (last season, similar
Chinese Laundry South Bay Boots
)
I scored this houndstooth coat at Sears for just $20, originally $50! (it's now only $16.99 online). I think it's much more fun than my boring black peacoat.
I'm also wearing my over the knee boots for the first time this season. I always get nervous when I wear them that someone is going to think I'm channeling Julia Roberts in Pretty Woman. But then I remember I'm not wearing a cut out micro mini dress. Khloe Kardashian, on the other hand, might want to rethink this over the knee boots and dress outfit she wore.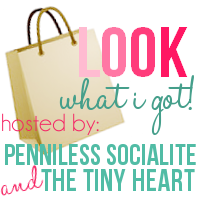 1. follow your hosts
2. grab a button
Or link back to one of your hosts, and help us promote LookWhat I Got!

3. link up!
Link up your post on what you got (for cheap)!
(Please don't link up your entire blog or any posts that arenot "Look What I Got"! )

We love having you link up and we will be reading all your posts! So, if you don't follow the rules and link back you'll be put in time out (i.e. we'll delete your link).

4. mix and mingle
Visit some other blogs and let them know you found them through the link up!