Dress-
Dress Up Boutique
(similar
Geometric Print Dress
), Necklace-Forever 21, Tights-c/o
SPANX
, Vintage Clutch,
Andres Machado Heels
Last Friday I went to my hubby's work holiday party held in a restaurant. He wasn't quite sure of the dress code, so I decided to wear this geometric print dress since it was dressier than what I'd wear to work, but not too formal. I think I fit right in with this dress.
The people at SPANX kindly sent me a little box of goodies. I decided to wear the Patterned Tight-End Tights for some subtle pattern mixing with the dress. The tights were very comfortable and stayed put the entire night. I'd definitely recommend them!
Some women didn't get the memo that it was a work event and there was a lot of cleavage on display...totally inappropriate! But far worse was that an employee's girlfriend was falling over drunk by 8:45 pm! She kept walking into the table and photo bombed one of my photos. My hubby said she was the talk of the office on Monday....so incredibly embarrassing!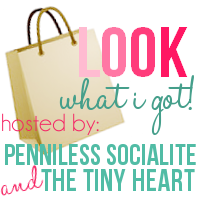 1. follow your hosts
2. grab a button
Or link back to one of your hosts, and help us promote LookWhat I Got!

3. link up!
Link up your post on what you got (for cheap)!
(Please don't link up your entire blog or any posts that are not "Look What I Got"! )

We love having you link up and we will be reading all your posts! So, if you don't follow the rules and link back you'll be put in time out (i.e. we'll delete your link).

4. mix and mingle
Visit some other blogs and let them know you found them through the link up!