Dress-Z Spoke By Zac Posen (via Rent The Runway), Necklace-Stella & Dot, Andres Machado Heels
This past Sunday I attended my brother-in-law's niece's Bat Mitzvah. I rented another dress using Rent The Runway
,
a rental service for designer dresses and accessories at a fraction of the cost. I went with another Zac Posen dress, since I adored the first one I wore! I wanted something classy yet fun since it needed to do double duty from the service at the synagogue to the party reception. I wore a sparkly black blazer over it for the service (sorry, I forgot to take a photo with it on). I absolutely loved the seaming detailing and the fact that it has pockets!
The party had a fun Mardi Gras theme. The place cards were Mardi Gras masks (which of course I had to try on!) and the centerpieces were giant masks.
The real fun though, was the green screen photo "booth". They Photoshopped you into the background of your choice and printed it into a frame or magnet.
With my sister, Alicia! My dream of being on In Style has come true!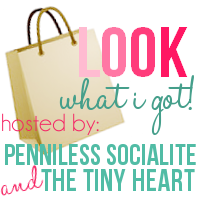 1. follow your hosts
2. grab a button
Or link back to one of your hosts, and help us promote LookWhat I Got!

3. link up!
Link up your post on what you got (for cheap)!
(Please don't link up your entire blog or any posts that arenot "Look What I Got"! )

We love having you link up and we will be reading all your posts! So, if you don't follow the rules and link back you'll be put in time out (i.e. we'll delete your link).

4. mix and mingle
Visit some other blogs and let them know you found them through the link up!