Have you ever been on Pinterest or Tumblr, fell in love with a gorgeous pair of shoes/dress/coat etc, only to discover there's no link to buy it? That's where The Hunt comes in! You can upload a photo to the site that you've been lusting after and then the "hunters" will find the exact item or something similar for you! Genius, right? Best of all it's free!
Let me show you how it works. I submitted these three Hunts to the site, items
that are on my holiday wishlist...a sequin blazer, a camel cape, and a jeweled knit hat.

You can customize the Hunts to
find an exact match, something similar, or the look for less (input your maximum price). On the left is the item I submitted, with the Finds on the right so you can see how well they did hunting it down.
The Hunt is launching their brand new iPhone app and it's totally free in the app store! If you've been to the site before, it will now have a new look and feel as a part of the launch. Cure your outfit envy now with The Hunt!
Please note: This post was sponsored by The Hunt, but the opinions expressed are solely mine.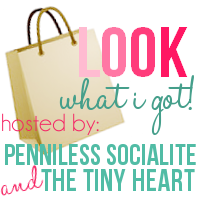 1. follow your hosts
2. grab a button
Or link back to one of your hosts, and help us promote LookWhat I Got!

3. link up!
Link up your post on what you got (for cheap)!
(Please don't link up your entire blog or any posts that arenot "Look What I Got"! )

We love having you link up and we will be reading all your posts! So, if you don't follow the rules and link back you'll be put in time out (i.e. we'll delete your link).

4. mix and mingle
Visit some other blogs and let them know you found them through the link up!