Cardigan-American Eagle (similar Old Navy Boyfriend Cardigan),
Top-Express (similar
Joe Fresh Striped Top
for $6.99!), Scarf-Forever 21 (similar
Lord & Taylor Tartan Plaid Scarf
),
Old Navy Rockstar Jeans
, Bag-
Kelly Wynne Mingle Mingle Mini
, Boots-Nordstrom (similar
Cognac Riding Boots
)
It's funny how this outfit came together. I've had the navy cardigan, striped tee, and plaid scarf in my closet for quite while and it finally dawned on me to pair them all together! It's times like these that shopping my closet is truly just as satisfying as buying something new. (Okay, maybe more satisfying since it didn't cost a cent!).
I decided to pair it with my gorgeous new Kelly Wynne bag that I won in a giveaway. Yes, I know, I won another giveaway....for some reason I either win absolutely nothing or I win a bunch of things at once. And right now I'm on a streak!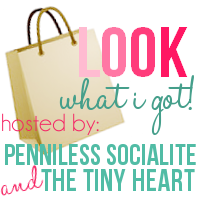 1. follow your hosts
2. grab a button
Or link back to one of your hosts, and help us promote LookWhat I Got!

3. link up!
Link up your post on what you got (for cheap)!
(Please don't link up your entire blog or any posts that arenot "Look What I Got"! )

We love having you link up and we will be reading all your posts! So, if you don't follow the rules and link back you'll be put in time out (i.e. we'll delete your link).

4. mix and mingle
Visit some other blogs and let them know you found them through the link up!