Come meet Stephanie, owner of Ooh Baby Designs. She makes the cutest infinity scarves, tote bags, and more! She also has an scarf giveaway for you!
1. How did you come up with your shop name, Ooh Baby Designs?

That one was my husband...when I first started out every time I would show him something I made, he'd say "ooh baby, that's great"! So the name evolved and stuck! Now I hear brides asking for "Ooh Baby Bags" for their bridesmaids and "Ooh Baby Scarves" for themselves. I think the name sort of chose itself :-)

2. What inspires you when creating a piece?
Color, pattern, NYFW...lol. Sometimes it's just need. For the beach bags for example, I could NEVER find one big enough for everything I needed to carry for a family of four. Then if I did, it was ugly, and the water soaked through, etc. So, I made ginormous beach bags, in bright bold patterns and colors, with a waterproof lining! Voila! When I'm designing scarves the inspiration is more creative than utilitarian. I think of scarves like big neck jewelry, and I just want to put something out that POPS and makes a statement. Like the two sided leopard camo scarf in traditional and burgundy, it really makes a statement.
3. What are your favorite pieces in your shop right now?


Easy - 2 sided infinities are my favorite. It takes an old stand by and adds dimension. My next favorite is the Everyday Tote that is still in production. It's smaller than my other totes, but still really roomy and in fashionable prints for Fall and Winter. I've also dressed it up with some piping accents, leather handles, and pockets. I think it's a winner for anyone who wants a big, roomy bag, but doesn't want to give up style in the process. And, like all my things, it's affordable!
4. Which fall trends are you excited about?
Hmm...Well there's Houndstooth, and I'm also excited about Houndstooth...and did I mention Houndstooth? :-)
5. Describe your style in 5 words.
Bold, Casual, Clean, On-trend, and uniquely mine! (okay that's 6...)

6. What advice would you give for opening an Etsy shop/business?
Never underestimate the value of advertising. Things don't sell themselves - you must find venues to advertise your products. Also, NEVER say to yourself when looking at your product "Eh, this is good enough"....If you don't think it's perfect, then it should never go in your shop!! :-) Try to have fun without letting it consuming you. Creativity is good for your soul, obsession consumes your soul.
Enter to win a chevron infinity scarf in the color of your choice!
a Rafflecopter giveaway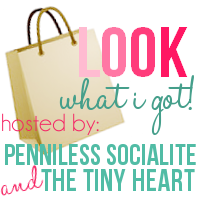 1. follow your hosts
2. grab a button
Or link back to one of your hosts, and help us promote LookWhat I Got!

3. link up!
Link up your post on what you got (for cheap)!
(Please don't link up your entire blog or any posts that arenot "Look What I Got"! )

We love having you link up and we will be reading all your posts! So, if you don't follow the rules and link back you'll be put in time out (i.e. we'll delete your link).

4. mix and mingle
Visit some other blogs and let them know you found them through the link up!