Mossimo Vest, Shirt-Target (similar New York & Co Chambray Shirt for $20!),
Pearls-Vintage, Pants-H&M (similar
Old Navy Rockstar Jeans
), Bow Flats-Gap Kids Outlet
I absolutely love my new Target Vest! I think it's a great JCrew herringbone vest look alike. Mine is tweed instead of herringbone, but it is very similar overall. You really can't beat the price of $34.99 compared to the JCrew version which retails for $108 (and selling for as much as $250 on eBay!).
PS The Shop My Closet Page has been updated with new items!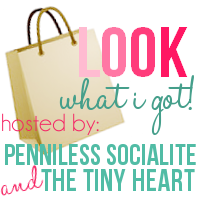 1. follow your hosts
2. grab a button
Or link back to one of your hosts, and help us promote LookWhat I Got!

3. link up!
Link up your post on what you got (for cheap)!
(Please don't link up your entire blog or any posts that arenot "Look What I Got"! )

We love having you link up and we will be reading all your posts! So, if you don't follow the rules and link back you'll be put in time out (i.e. we'll delete your link).

4. mix and mingle
Visit some other blogs and let them know you found them through the link up!