Top-Forever 21 (similar
Macy's Polka Dot Top
), Skirt-Forever 21 (available in stores, similar
Faux Leather Skirt
), Necklaces-Forever 21 and Stella & Dot, Heels-c/o
Andres Machado
(similar
Madden Girl Burgundy Pumps
), Clutch-Target
I scored this Forever 21 Faux Leather Skirt for just $15! It's not online (all of their faux leather skirts seem to be sold out), but you might be able to find it in the store. It's a good thing I tried it on in the dressing room, since the Small was ridiculously short and I had to size up. Considering I'm on 4'10", that's saying a lot. But I guess that's what happens when you shop at a store geared towards teens. Not only is faux leather in, but apparently having your butt hanging out is too!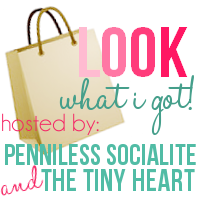 1. follow your hosts
2. grab a button
Or link back to one of your hosts, and help us promote LookWhat I Got!

3. link up!
Link up your post on what you got (for cheap)!
(Please don't link up your entire blog or any posts that arenot "Look What I Got"! )

We love having you link up and we will be reading all your posts! So, if you don't follow the rules and link back you'll be put in time out (i.e. we'll delete your link).

4. mix and mingle
Visit some other blogs and let them know you found them through the link up!