Top-Abercrombie (similar
Guess Plaid Shirt
), Necklace-Forever 21, Leggings-Groopdealz (similar
Faux Leather Leggings
), Clutch-Target (similar
Snakeskin Clutch
), Flats-Gap Kids Outlet
Leather leggings is one of those trends that I was iffy about when I first saw them last year. (Ross from Friends stuck in his leather pants, anyone?). Or the fact that I'm not a biker or a rockstar...could I really pull them off? But after seeing them more and more, they grew on me and I just HAD to have a pair. I scored mine on Groopdealz for just $11.99.
This outfit was inspired by a Polyvore set from Emily of Creamy Style. I decided to swap the heels for flats to dress it down a bit for daytime.
Are you loving the leather legging trend or steering clear?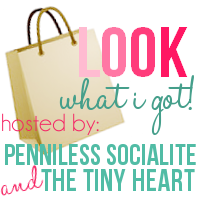 1. follow your hosts
2. grab a button
Or link back to one of your hosts, and help us promote LookWhat I Got!

3. link up!
Link up your post on what you got (for cheap)!
(Please don't link up your entire blog or any posts that arenot "Look What I Got"! )

We love having you link up and we will be reading all your posts! So, if you don't follow the rules and link back you'll be put in time out (i.e. we'll delete your link).

4. mix and mingle
Visit some other blogs and let them know you found them through the link up!