Faux Leather Jacket-Target (
similar
),
Cutout Dress
-Target,
Leopard Belt
-ASOS,
Booties
-Target
I'm a little late to the cutout trend, but once I saw this burgundy (oxblood?) dress in Target, I knew I had to have it! (If cutouts aren't your thing, they have a very similar version without them). It was $24.99 and thanks to the Target Cartwheel app*, it was 20% off. If you're in Target on a weekly basis like I am, you must get this app. You can search by category (women's clothing, shoes, etc) and see which coupons are available. Then you just add the coupons you want and when you get to the register, they scan your phone to get the discounts.
*Major thanks to Allyssa for telling me about Cartwheel!
I also got this ASOS leopard belt for just $10. It's now on sale for $6.75 plus free shipping. If you're looking for a leopard belt, I don't think you'll find one cheaper!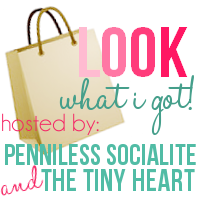 1. follow your hosts
2. grab a button
Or link back to one of your hosts, and help us promote LookWhat I Got!

3. link up!
Link up your post on what you got (for cheap)!
(Please don't link up your entire blog or any posts that arenot "Look What I Got"! )

We love having you link up and we will be reading all your posts! So, if you don't follow the rules and link back you'll be put in time out (i.e. we'll delete your link).

4. mix and mingle
Visit some other blogs and let them know you found them through the link up!