Denim Vest
-Target, Dress-Free People via Loehmann's (
similar
), Straw Fedora-Forever 21 (
similar
), Sandals-American Eagle
I scored this Free People black sundress a few years ago at Loehmann's for a fraction of the cost. If you don't have a Loehmann's, you're totally missing out. They have designer clothing, handbags, jewelry, shoes and even lingerie at a discounted price.
The only downside? The Loehmann's near my parents' house has a communal dressing room. Meaning, there's one big dressing room and everyone tries on the clothes in front of everyone else. Let's just say I have seen things in that dressing room that I never want to see again. Thankfully, they now have private dressing rooms so I can freely try my clothes on without fear.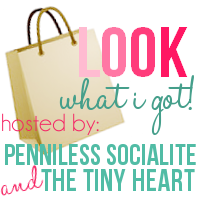 1. follow your hosts
2. grab a button
Or link back to one of your hosts, and help us promote LookWhat I Got!

3. link up!
Link up your post on what you got (for cheap)!
(Please don't link up your entire blog or any posts that arenot "Look What I Got"! )

We love having you link up and we will be reading all your posts! So, if you don't follow the rules and link back you'll be put in time out (i.e. we'll delete your link).

4. mix and mingle
Visit some other blogs and let them know you found them through the link up!