Please note this is a scheduled post. I am out of town and will not be able to respond to comments until tomorrow.
Cargo Vest
-JCPenney,
Tank Top
-Old Navy,
Denim Shorts
-American Eagle, Sandals-American Eagle, Bag-Botkier (
similar
)
I've been looking for a cargo vest ever since the infamous Old Navy one sold out last year. (Pretty sure the fashion blogger community is to blame for that). I scored this one from JCPenney on clearance. It was originally $40, reduced to $15 and then I had a 15% off coupon for a grand total of $12.75. FYI it's still on sale! If you're looking for a cargo vest, I don't think you can beat the price.
I wore this outfit when I went Labor Day shopping at the mall. I think the military look was fitting, since I felt like I was going into battle against all the other shoppers. People should know not to mess with me when there's a 30% off sale and I'm armed with gift cards.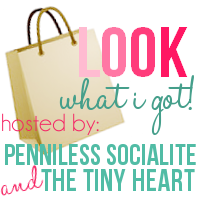 1. follow your hosts
2. grab a button
Or link back to one of your hosts, and help us promote LookWhat I Got!

3. link up!
Link up your post on what you got (for cheap)!
(Please don't link up your entire blog or any posts that arenot "Look What I Got"! )

We love having you link up and we will be reading all your posts! So, if you don't follow the rules and link back you'll be put in time out (i.e. we'll delete your link).

4. mix and mingle
Visit some other blogs and let them know you found them through the link up!